Aequilibria installation complete
1/8/2020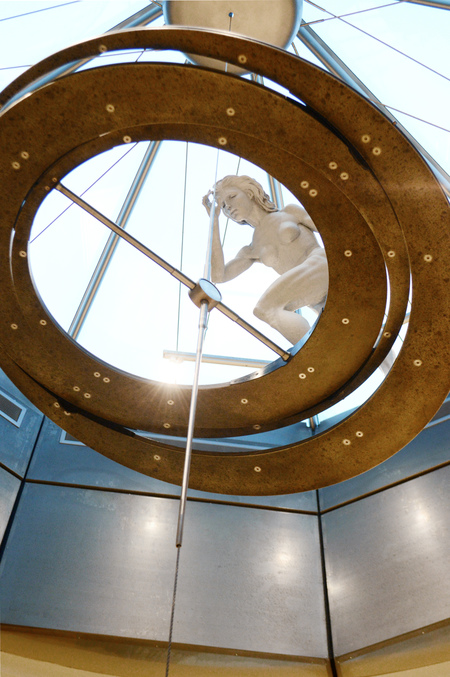 We are pleased to present Aequilibria, David's newest suspended artwork.

"The allegorical figure of Lady Justice presides over the facades, and loiters in the lobby of every Courthouse in the western world. That archaic image - blindfold, figure, sword and scales - is here re-formed within the currents of our fast-flowing cultural moment.

Staggering technological and teleological flux has us grappling for viable footing as never before - and perhaps nowhere more than within the juridical sphere is a culture's feet so bound to its foundations.

So, rendered here is no longer some lesser deity holding up simple binary judgement, but humanity itself in the shifting scales... Grappling over the post-Nietzschean void... Astride tilting and contingent ground. In elliptical orbit amid the planetary pull of passing epistemologies. Striving for poise within the requisite un-balance of any and all progress...

And even so, this figure inclines toward the ancient human citing of a true and plumb line - some existential axis along which we may divine and provision a right and just orientation toward the nature of being." ~DR, 2019

Thanks to Brenda Bradshaw for helping make this piece a reality.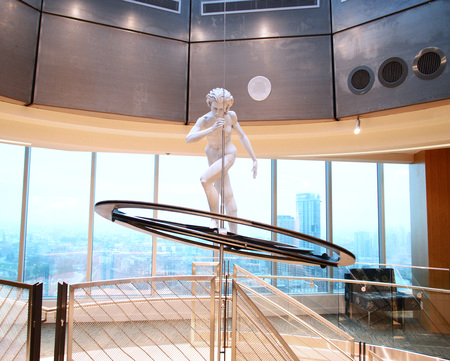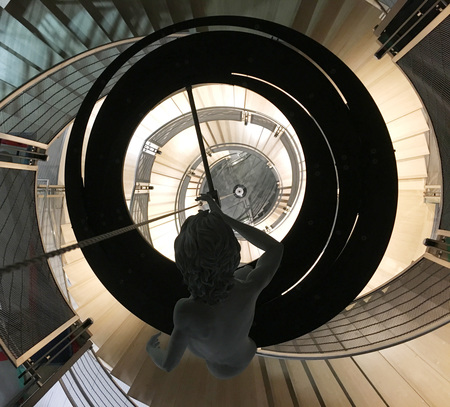 ---
Robinson works featured at Liquidity Wines
5/14/2019
"This summer, Liquidity Wines is thrilled to announce that David will showcase four pieces, including Equestrian Monument, at the winery. It will be on display until the end of the 2019 season in October.

Sculptor David Robinson has been a force in the Canadian art scene for the last 25 years. Based in Vancouver, he is known for his conceptually and physically complex works that are outstanding contemporary examples of a type of humanist realism that engages with fundamental, often spiritual questions of the experience and meaning of being. His sculptures do this through a few central premises; the universal human, our interaction with the physical world and the exploration of metaphysical ideas and their expression in form.

And he's looking forward to seeing his art featured at Liquidity Wines this summer, too. David will talk about his pieces showcased at Liquidity Aug. 17 at 3 pm in the Premium Tasting Lounge.

"I'm delighted to be showing at Liquidity this year," David says. "It's always meaningful to see the artwork in a new environment, and Liquidity's Ian MacDonald has done a brilliant job cultivating a beautiful setting for the sculpture.""
---
Windward Calm installed at VGH
11/1/2018
Having spent some hours at the Gordon and Leslie Diamond Healthcare Centre as a recovering cardiac surgical patient, David was inspired by the shared experience of fellow patients all gathered in the lofty and hushed place of waiting. As witness to patients' imposed vigilance under the glacial passage of time, Robinson reflected upon the many people that gather there under the spirit of human care; every living body a vessel upon uncharted waters.

This artwork asks us to consider the body and the soul "aloft in countervailing vortices of gravity and grace. The slow turning, rise and fall; breath as wind, as spirit…. In this work, we see ourselves reflected, leaning into the wind and navigating realms unknown."

David would like to thank Gordon and Leslie Diamond as well as the VGH UBC Hospital Foundation for helping him realize his vision. Video courtesy of https://www.littlewolfproductions.ca/